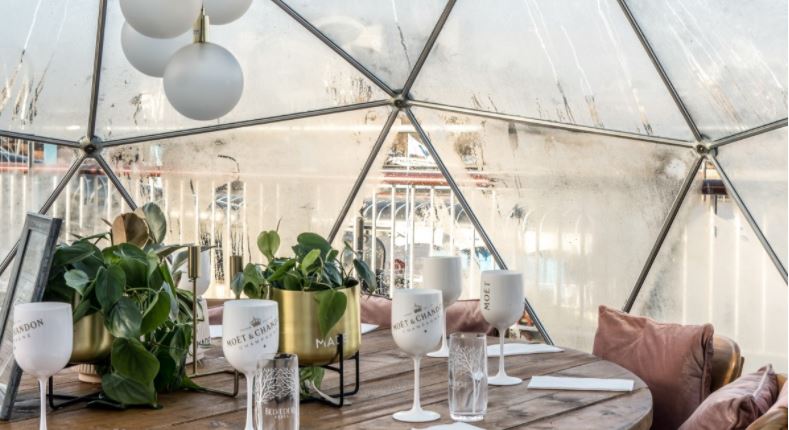 We are incredibly lucky in South East Florida as we just had to live through a few days of cold weather now and then over the winter time, allowing us to enjoy walks by the ocean, bike rides as well as safe and enjoyable outdoor dining experiences.
Yet, a year into the pandemic, most restaurants around here had to come-up with creative tools, signage, outdoor spaces and new programming in order to keep attracting customers and financially survive.
I recently visited a local restaurant which opened a few months ago. It showcases an enchanting atrium or winter garden; an open-air area covered with a roof where you can sit and enjoy a drink, a lunch or dinner, while being surrounded by plants and orchids.
With indoor dining restrictions, lockdowns and curfews, the restaurant and hospitality industries are facing their biggest challenge in a generation.
It is therefore no surprise that restaurants and bars had to come-up with stronger and lasting creative ideas to survive in cities or countries where the weather has been much colder over the last few months.
Trying to keep on attracting customers for a safe and fun social experience in a cold climate is nothing new for ski resort areas, winter festivals and markets. However, as we are experimenting our first winter with the Covid-19 pandemic, restaurants and bars are getting inspiration and new programming from these traditionally temporary experiences.
One of my clients, who is based in the Boston area, recently told me about the possibility of booking an igloo to share a meal, which is limited to a 6 people family of group of friends, for 1.5 hour. Find out more here.
Obiviously, creative ideas such as expanding an outdoor area onto a parking lot or the sidewalk, welcoming igloos or other temporary structures, implementing a take away menu or catering options require specific staff training and must often be coordinated with local municipalities for specific permits and licenses.
Streetsense, a strategy company specialized in the restaurant and hospitality industry, has created a "Winter Dining Guide" which provides with ideas and tools for restaurants and bars to try to keep welcoming customers for an enjoyable and safe experience, at a time that has been the most challenging for them.
These necessary changes and investments will most probably stay once the pandemic fades away and will hopefully be leveraged year after year.
Find out more about the Streetsense Winter Dining Guide.
Photo from Streetsense.