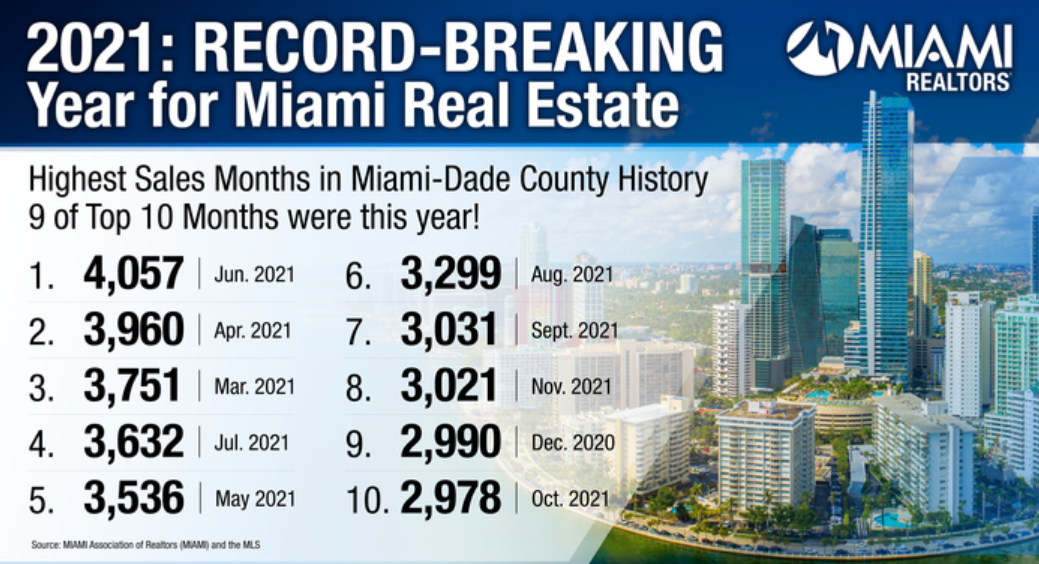 According to numbers provided by the Miami Association of Realtors and the MLS ( Real estate Multiple Service Listing ); Miami-Dade County total home sales rose 22.9% year-over-year in November 2021, from 2,459 sales to 3,021. Single-family home transactions increased 1.2%, from 1,154 to 1,168. Existing condo sales increased 42%, from 1,305 to 1,853.
"The demand for Miami real estate is so high that not even November, a time usually known for a slower pace of deals because of the holidays, can slow down this historic market," MIAMI Chairman of the Board Jennifer Wollmann said. "Domestic buyers from high-tax, high-density states have migrated here as the availability of remote work has expanded exponentially with the pandemic. Vaccinated global buyers were allowed to resume travel to the U.S. in November and are only adding to the number of buyers interested in Miami area properties."
Year-to-date, Miami has registered 35,961 existing total homes sales in 11 months for 2021, which surpasses the previous annual record of 30,041 transactions in the entire year of 2013, an increase of 19.7%.
The Covid-19 pandemic as well as new variants appearing on a regular basis are making Southeast Florida, its outdoor living spaces and warm weather very attractive to individuals and professionals willing to escape from high-density and potentially less safe neighborhoods.
Miami single-family luxury ($1-million-and-up) transactions rose 28.2% year-over-year to 209 sales in November 2021. Miami existing condo luxury ($1-million-and-up) sales surged 115.6% year-over-year to 207 transactions.
There are only 3.6 months of supply in luxury single-family homes and 8.4 months of supply in luxury condos. Luxury months of supply continues to trend downward for all property types, month-over-month, and year-over-year.
Low interest rates, the appeal of stable assets in a volatile economy, homebuyers leaving tax-burdened Northeastern states to purchase in Florida (where there is no state income tax), work-from-home and remote-learning policies have also contributed to create a strong market for luxury single-family properties.
With global vaccinations rates rising and unstable political or economic situations around the world, Southeast Florida is seeing an increase in foreign homebuyers. Many foreign buyers are coming here to get vaccinated and purchase properties.
As vaccinated foreigners were allowed to travel again to the U.S. back on November 8th, there is more international investment in South Florida; the No. 1 destination for foreign buyers.
The falling number of homeowners in mortgage forbearance will also bring about more inventory of residential properties for sale. Expectation that US interest rates will rise in 2022 and this trend should continue to drive demand in the first quarter of 2022.
The National Association of Realtors Chief Economist Lawrence Yun expects the 30-year fixed mortgage rate to increase to 3.7% by the end of 2022. It would still be lower than the pre-pandemic rate of 4%.
Miami remains attractively prices compared to other major international cities: In Miami, $1 million can net homebuyers 85 square meters of prime property, according to Knight Frank's 2021 The Wealth Report. Monaco (15 square meters), Hong Kong (23), London (31), New York (34) and Geneva (35) and others offer significantly less prime land for $1 million.
If you have any question about the Southeast Florida real estate market, feel free to reach out to me:
Arielle Biscayart - Traditional and crypto real estate sales - Coldwell Banker Realty
Ph : + ( 1 ) 305-303-1218 - [email protected] - @ariellebiscayart on Instagram - @Athomeinmiami on Twitter -
@arielle_sells_miami on TikTok - Arielle Biscayart on Youtube